So, is this a macaron or a macaroon?
Y'know, I've always been so confused on whether I should or shouldn't put the extra 'o' into the spelling of what I call, the mini sugar biscuit. As you can tell, I'm no expert in the English language. *laugh*
So when in doubt, ask. And that's exactly what I did. I asked for your opinion and this is what you gave me…*smirk*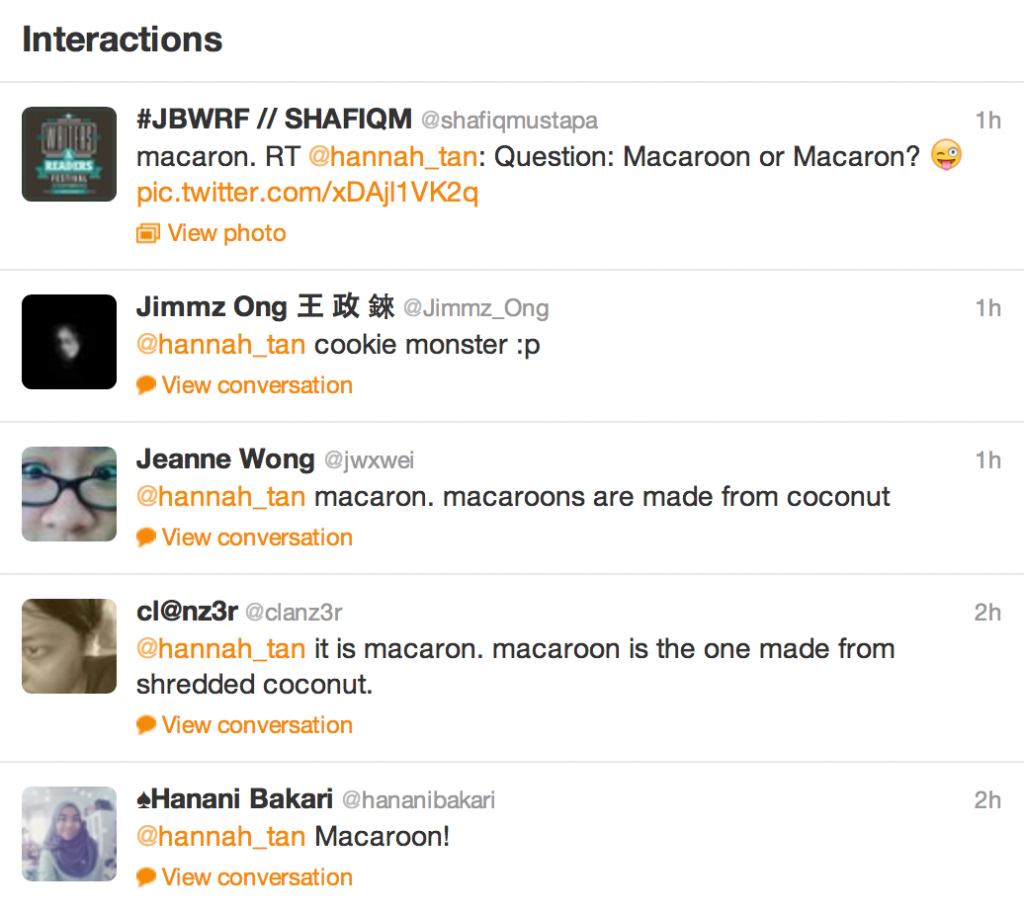 How insightful. Haha. Thanks for sharing your thoughts. *kiss*
It turns out (according to Google) that the macaron and the macaroon are two different things. How many of you actually knew that? Okay, even if you did, just pretend you didn't; so that I don't feel so stupid. Or shall I say, belum pandai. Lol
This is a macaroon. (Thank you Jeanne Wong, Michelle Ng & Cl@nz3r)
And this, is a macaron (thanks to the rest of you who got it right ;-)), which is what I wanted to talk about.
Next question – where does the macaron originate from – France, Switzerland or Italy?
Aha! While most (including Moi) would say France, the macaron actually originated from Italy, although it was later made popular by the French.
I suppose it is safe to say that the French owe their iconic association with this sweet treat to the great Catherine de' Medici; who was arguably, the most powerful woman in sixteenth-century Europe.
Apparently, Catherine (who was Italian by the way) brought her Italian pastry chefs from Italy to France in 1533 when she migrated to marry Henry II of France at the age of 14. Actually, both Catherine and Henry II were 14 at that time. Naughty Henry II ended up cheating on Catherine the year after they got married, with a 35-year old cougar, but that's another story.
So back to the macaron. According to Wiki, the name is derived from the Italian word macarone, maccarone or maccherone; basically, the Italian meringue.
Apparently, the original version of the macaron were two shells (imagine two slices of plain bread) served with jams, liqueurs and spices; until a French boy came up with the idea of sandwiching the two shells together with a granache (filling made from chocolate and cream) center. His grandfather, Louis-Ernest Ladurée, thought it was a brilliant idea and decided to incorporate it into his pastry shop – Ladurée – which later become synonymous with macarons. Today, 151 years after the original pastry shop was founded, Ladurée remains as one of the best known makers of macarons in the world; selling approximately 15,000 each day.
The holding group of Ladurée even supplies macarons to McDonald's in France (sold in McCafés) although it's not the same recipe used in Ladurée itself; otherwise it would be a total rip-off, wouldn't it?! *laugh*
During my last trip to Paris, I wanted to see for myself, what the fuss about this famous sweet biscuit was all about. You see, at the flagship outlet in Paris, people actually line up for up to an hour just to buy these little things. Can you believe it?!
€3 for ONE macaron. If you buy a box of 16 pieces or more, the price goes down to €2 per piece. But still, that's almost RM9 for an instant spike to your sugar levels. Not such a bad deal huh? *laugh*
So yeah, I eventually found myself in the line with all the other tourists, waiting for almost an hour to, get this – pay money to stand at risk of diabetes. *laugh* Come to think about it, now I feel like such a sucker but oh well, at least I can say I've visited the famous pastry shop on Champs-Élysée; and I have pictures to prove I was there!!! Mwahaha~
As you would've noticed, they also sell a lot of other pastries which looked sooooooo sinful. OMG. I felt like biting into every single thing on display. *laugh* So colourful! I was like like a kid in a candy store. Or in this case, a pastry shop. *laugh*
This is supposed to be Ladurée's the signature macaron. I bought one! :-D €7.20 per piece! But to be fair, it's double the size of the normal macaron and it's got some raspberries in it (with a rose petal on top of the whole thing)... [trying to comfort myself].
At the end of the wait at the pastry shop I needed to use the toilet, and was redirected to the first floor. Now that was when I discovered that Ladurée also had a dine-in area. Point to note – if you don't have a prior reservation there, you'll end up lining up again. I suppose that was my lucky day because although it was a spontaneous decision to have a meal there, we managed to get a table with, shall I say, minimal wait? *laugh*
Waiting in line to buy macarons wasn't something I was overly enthusiastic about, but having a chance to rate their cuisine a.k.a makan - now that's my thing. Yay to that! *cheeky-grin*
I must say, the overall dining experience was quite pleasant. I took a video of the food tasting so that you can have an idea of what the general French cuisine is like. Since this post is starting to get a tad too lengthy, I'll share the video with you next week ok? *smile* Till then, here's a big panda hug for a fantabulous day ahead! Mwah!!!!